We are gearing up for a big Super Hero bash at our house. My oldest son is turning 4! I can hardly believe it. It seems like just yesterday I was holding him in my arms and staring at his tiny face in awe. He was mine and he was the most beautiful baby I had ever seen. Now he is the most precious (stubborn, independent, hilarious, energetic, inquisitive) soon-to-be 4 year-old I've ever met. I'm proud to be his mama. But enough of the mushy stuff, we've got a party to plan. I made a fun Superhero Phone Booth for the occasion!
My son, Aiden, is a typical boy. His favorite thing in the whole wide world is pretending to be a Super Hero. If you ask him what he wants to be when he grows up, he says "Superman." He is dead serious. So it didn't come as a shock when he announced that he wanted to have a Super Hero themed birthday party. Luckily, I've come across lots of really cute decor ideas for this very theme.
I spent my weekend working on a fun project for his party — a refrigerator box turned old-school Superman-style phone booth. When I got this idea in my head, I didn't realize it would be like searching for treasured gold to find a big cardboard refrigerator box. I called several appliance stores, and they all told me the same thing. "Refrigerators don't come in boxes anymore. They come shrink wrapped. Good luck with that…." It was clear they had no interest in helping me. So I was pleasantly surprised when a nice lady in the shipping and receiving department at the Alpharetta, GA Lowe's store (shout-out!!) agreed to not only hold one for me, but to take down my number and CALL me when they got one in. (She acknowledged that they don't get them as often as they used to – the other stores hadn't totally lied. But they DO get them.) She called me a day or two later and said they had in fact received one and she had put my name on it and reserved it for me. Way to go Lowe's for being awesome!
And here is what I did with it:
Don't you want to jump inside and become Superman?
Here's what I used for this project:
I started by measuring and marking the windows and cutting them out with a utility knife
, and then I cut out the door. Next, I spray painted the whole thing cherry red. I used mailbox letter decals
to spell out "Telephone," and a cabinet pull for the door handle. I still have some finishing touches to add. I'll be adding plastic cellophane for the window "glass," and Command hooks inside to hang capes and costumes on so the kids can morph into their favorite Super Hero during the birthday party.
Can't wait to share photos of it when it's totally finished, along with the rest of the party decor in a couple weeks. I'm even a little excited about the Spider-Man bouncy house we'll be renting. Is there a rule against moms participating? He's not old enough to be embarassed by me yet. (Right??) And I can use his little brother as an excuse. He needs help bouncing in there, doesn't he? Come on, you know it's fun.
Updates coming soon! Along with a really fun "Ask Five" interview that directly relates to party planning/decor. Stay tuned!
Also, here's a link to a super cute superhero party — lots of great inspiration there!
I am Linking this Post to: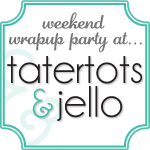 Blue Cricket Design Show and Tell
Disclosure: This post may contain affiliate links.